LOS ANGELES, CA, April 27, 2016 – ASAP International Holdings ("ASAP") (OTCQB: ASAE) announced today that it has successfully advised on the acquisition for Urban Commons LLC of the Queen Mary which closed on April 19, 2016.
Plans are preliminary, Urban Commons envisions a 200-room landside boutique hotel, restaurants, a marina and an amphitheater for thousands to enjoy live music and events, all linked together by jogging and bike paths near the water. A giant Ferris wheel is also a possibility.
"This is a tremendous opportunity to transform a beloved Southern California icon into a sought-after world-class destination. The Queen Mary is a true crown jewel for both Long Beach and Greater Southern California, and we are excited to step in to help shape the future of such a storied landmark that has fascinated visitors for decades," said Taylor Woods, Principal of Urban Commons. "We all want to see the best possible use of this historic icon, so we are focused on creating a careful, thoughtful plan that honors the rich history of the Queen Mary and revitalizes the surrounding 45 acres."
Mr. Frank Yuan stated, "Thanks to Urban Commons for patiently and consistently working with all parties including the City of Long Beach and others to make this transaction successful."
CEO Frank Yuan and CIO Jerome Yuan led the ASAP team on transactions. ASAP is one of the most active hotel buyers in the U.S. For the past five years, the company has constantly identified hotels and will remain active on the hospitality buy side for the foreseeable future.
About Urban Commons
Over the last several years, Urban Commons has completed a large number of commercial property acquisitions.  Urban Commons targets value-add opportunities in highly populated, predictable markets where they see the greatest growth potential and upside opportunities for returns.  Urban Commons continues to aggressively grow its portfolio in the hospitality sector. The Los Angeles-based real estate investment firm specializes in hospitality and residential income generating assets.  With decades of cumulative real estate investment, development, and management experience, the company has proven the ability to thrive in the US market throughout all market cycles.   Urban Commons owns, manages and invests in a variety of assets including land, apartment buildings, condominium projects, hotels, retail and commercial properties.  Hospitality partners include names such as, Starwood Hotels and Resorts Worldwide, Hilton Worldwide, InterContinental Hotels Group and Wyndham Worldwide.  For further information about Urban Commons, please visit www.urban-commons.com.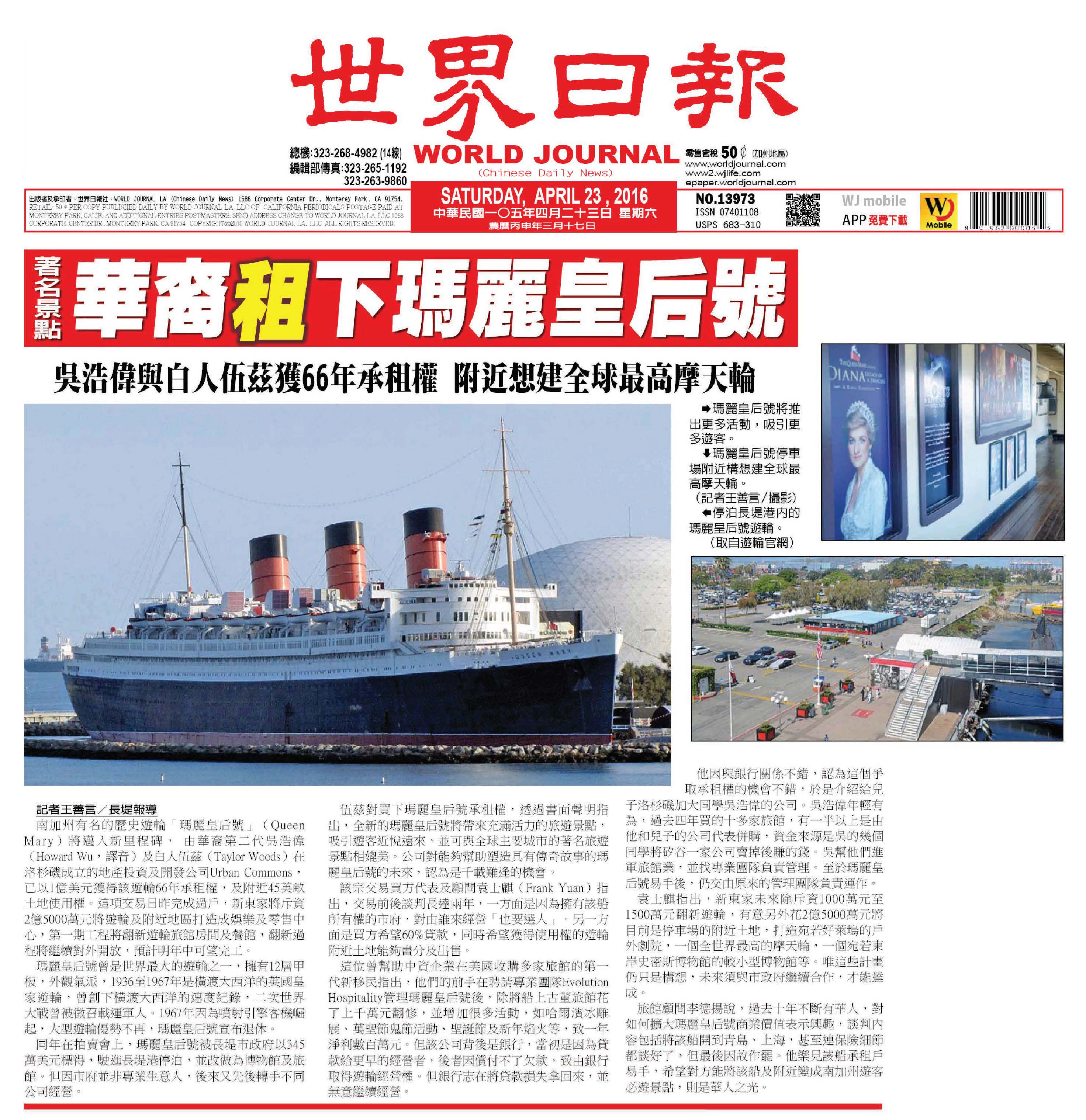 About ASAP
ASAP is a holding company that operates real estate, investment banking and consulting for Chinese companies. Our mission is to be the bridge between China and the Western world. Our Real Estate division assists with institutional and high net worth individuals with acquisition advisory and asset management. Corporate website www.asapholdings.com
Contact:
Ana Gandara Morales
(213) 625 1200
info@asapholdings.com
With the exception of historical information, the matters discussed in this news release include "forward-looking statements" within the meaning of the federal securities laws that are qualified by cautionary statements herein and in all company's filings with the Securities and Exchange Commission.  We undertake no obligation to update any forward-looking statement to conform the statement to actual results or changes in our expectations.